Il lago di Como non è famoso soltanto per le ville ed i paesaggi mozzafiato, le incredibili opere architettoniche, i set cinematografici di Star Wars e per essere diventato da qualche anno uno dei luoghi preferiti di George Clooney. In questi anni, infatti, la zona del Lario sta diventando una vera e propria fucina di talenti del poker sportivo.
,
Da Andrea Montini a "Morobolz" fino ad arrivare a "Royal_Fish84" ecco le eccellenze del tavolo verde che stanno portando il territorio alla ribalta delle cronache pokeristiche.
Il più famoso e, al momento, vincente è Andrea Montini, che a soli 32 anni si trova attualmente alla posizione 174 nella Italy All time Money List, la classifica dei pokeristi italiani più vincenti di sempre. Un risultato incredibile se pensiamo che Montini ha iniziato a giocare a poker soltanto nel 2009 ed ha vinto il suo primo torneo nel 2013.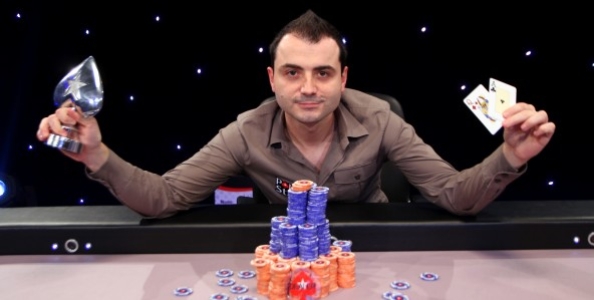 Ma si è trattata di una vittoria incredibile, arrivata nel Main Event di una tappa dell'IPT, il maggior circuito nazionale di poker sportivo, svoltasi a Campione d'Italia. Un successo in un appuntamento dell'Italian Poker Tour a cui erano iscritti 385 giocatori non si dimentica facilmente. E a maggior ragione se l'iscrizione è arrivata quasi per caso grazie ad un ticket conquistato online su PokerStars con il nickname "siamosolo199". Al tavolo finale del torneo, Montini, usciti rapidamente i primi sfidanti, ha dovuto fronteggiare per ben 3 ore la resistenza del ben più quotato Vito Planeta, stella del poker online. Un testa a testa epico che si è concluso con il trionfo del giocatore di Como, dichiaratosi, nelle interviste successive al torneo, incredulo per la vittoria conseguita dopo 5 tiratissime ore di gioco e indeciso se tentare la strada del professionismo.
Da qui è partita la carriera del lariano che non sembra aver alcuna intenzione di fermarsi e che negli anni successivi ha iniziato ad aumentare il numero di partecipazioni ai più importanti tornei live. Dopo il successo IPT, infatti Montini ha inanellato una serie di risultati di prestigio, tra cui il quarto posto nell'evento principale dell'"Only The Barracudas", sempre a Campione d'Italia nel 2014, il nono in un torneo dello stesso circuito l'anno successivo, un'altra quarta piazza questa volta nel Poker Grand Prix di Milano nel 2015 e, a dicembre 2016, la quinta posizione in un torneo No Limit Hold'em del People Poker's Tour.
Accanto a Montini sta iniziando a farsi conoscere "Morobolz", trentatreenne di Casatenovo, in provincia di Lecco. Vincitore di uno dei principali tornei online di PokerStars, il "Member of the Month" nel 2012, Matteo (questo il nome all'anagrafe) è laureato in marketing ed un grande appassionato di sport, di calcio in particolare. Una passione, quella per il poker invece, nata quasi per caso con le partite tra amici, con la visione dei tornei in tv e con la lettura di un libro di tecnica della disciplina. Passione che si è trasformata pian piano in una occupazione a tempo pieno. Impegnato soprattutto nelle partite online, Matteo preferisce il classico Hold'em alle altre discipline come l'Omaha, lo Stud ed il Razz di cui non si definisce un esperto. Il Lecchese ha anche un giocatore professionista che stima particolarmente e a cui si ispira sia nelle strategie di gioco che nell'approccio: Luca Pagano.
Terzo campione lariano di poker sportivo di cui parliamo in questa breve rassegna è Royal_Fish84, uno dei più stimati e famosi giocatori online. Originario di Erba, il quotatissimo grinder si è fatto un nome nella comunità online per la sua abilità, per la sua strategia molto aggressiva e, soprattutto, per aver vinto alcuni Sunday Special, uno degli appuntamenti più importanti e partecipati organizzati da PokerStars.